Ingredients for 4 servings
1 pack of "Meraklidika" homemade pasta (500 grams),
1 rooster (1,700-2,000 grams) cut in 8-10 pieces,
200 grams chopped onions,
60 grams mashed garlic,
12 grams olive oil,
900 grams ripe tomatoes (diced),
80 grams tomato sauce,
200 grams rosé wine,
2 bay leaves,
1 cinnamon stick,
35 grams salt,
20 grams pepper,
25 grams sugar,
150 grams sour mizithra cheese (crumbled),
100 grams feta cheese (crumbled),
1 bunch of mint,
1 ½ litre of water or fresh homemade broth (optional).
For the homemade broth:
In 1.5 litres of water add 1 onion, 1 carrot, 1 garlic clove, and 1 tomato, all cut in half. Add the stems of a bundle of fresh mint and the stems of a bundle of fresh parsley. Add 1 teaspoon of salt and 1 teaspoon of pepper. Boil for 1.5 hours, strain, and set the liquid aside.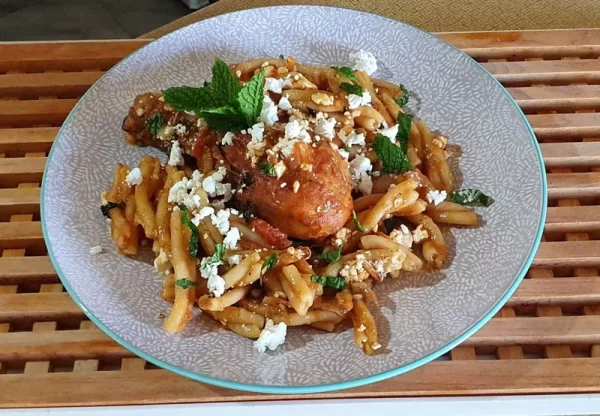 Instructions
In a large pot, add half of the olive oil and the meat. Sauté for 5 minutes until the meat is brown on all sides. Remove the meat from the pot and add the rest of the olive oil. Sauté the garlic and the onion and place the meat back in the pot. Add tomato sauce and braise for 3 minutes. Add the diced tomato and sauté for 3 more minutes. Douse in wine and some broth, so that the meat is well covered. Add the bay leaves, the cinnamon, and the pepper, and simmer until the meat gets tender. Toward the end, add the salt and the finely chopped leaves of fresh mint.
Once the rooster meat is cooked, remove it from the pot and add 1 cup of broth. Once the broth is brought to a boil, add the homemade pasta, stir, and cook for 6 minutes. Place the pasta and the meat in a baking dish. Add the rest of the broth. Remove the bay leaves and the cinnamon stick. Add mizithra and feta cheese and heat the baking dish in the oven for 5 minutes at 180°C until golden brown.
Serve the rooster with homemade pasta and sprinkle with extra feta and mizithra cheese as well as some finely chopped spearmint. Drizzle with a bit of fresh olive oil. Pair with a glass of good red wine.
Enjoy!