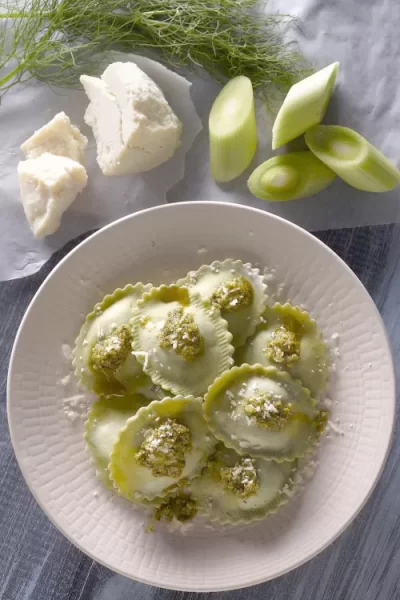 Ingredients
1100 grams fresh sage, 50 grams dry sage, 40 grams dry basil, 50 grams brown sugar, 80 grams salt, 50 grams black pepper, 200 grams white wine, 1 lt. water, 400 grams corn flour, 100 grams flour (for dusting), 250 grams chopped onions, 250 grams chopped scallions, 180 grams tomato (diced), 180 grams olive oil, 40 grams chopped parsley, 1 lt. vegetable broth.
Instructions
Add water and 1/3 of the dry and fresh sage into a pot. Bring it to a boil. Add the rest of the sage to another pot along with the olive oil, the onion, the scallion, and the tomato, and sauté. Dust with flour and add the brown sugar to slightly caramelize the mix. Add the sage broth, which has already been boiled and strained, along with wine, salt, pepper, dry basil, and vegetable broth. Mash with a hand blender and add corn flour to thicken the sauce.
Pour the sauce on top of the ravioli filled with cheese and wild edible Cretan "horta," sprinkle with high-quality kefalotyri cheese, and enjoy!